Regular price
Sale price
$37.50
Unit price
per
Sale
Sold out
Do you like the secrets and mysteries of ancient history? Are you attracted to danger and adventure? Then assemble the mechanical model "Secrets of Egypt". Jewelry box with jewelry
Immerse yourself in the world of pharaohs and mysticism. The pyramid-shaped jewelry box combines plywood and plastic, simplicity and mystery. When you rotate the top of the pyramid, its sides will part in front of you and you will see the "treasure of the pharaohs" in the form of a small niche for jewelry dear to your heart.
Mechanical model "Secrets of Egypt". " Jewelry box for self-assembly from Veter Models will be a wonderful gift for you and your friends, will decorate any interior, be it an office or a bedroom.
This 3D puzzle will surely surprise you not only with its gorgeous finishes, but also with its versatility and functionality. With long-lasting materials, genuine replica design and enhanced durability, this pyramid model will complete your collection, being a nice décor to your bedroom or living room!
You will fall in love instantly with this pyramid wooden model!
Some amazing features of this product:
•    ● 100% safe materials;
•    ● No missing parts;
•    ● Easy DIY self-assembly;
•    ● Elegant packaging;
•    ● Thoughtful present for loved ones;
•    ● Features small slot for storing jewelry, smaller items.
CHARACTERISTICS:
•    Part qnty: 174
•    Difficulty level: medium
•    Self-assembly without glue
•    Scale: 1:87
•    Model size: 86*130*130 mm
•    Package size: 250 * 140 * 30 mm
•    Assembled according to instruction
•    Approximate assembling time – 7 hours
•    Age: 14+
Dimensions

Model size: 86 * 130 * 130 mm
Packing size: 250 * 140 * 30 mm
Instructions

Level of difficulty: medium

Assembling in line with the guidelines.

Glue-free assembling.
View full details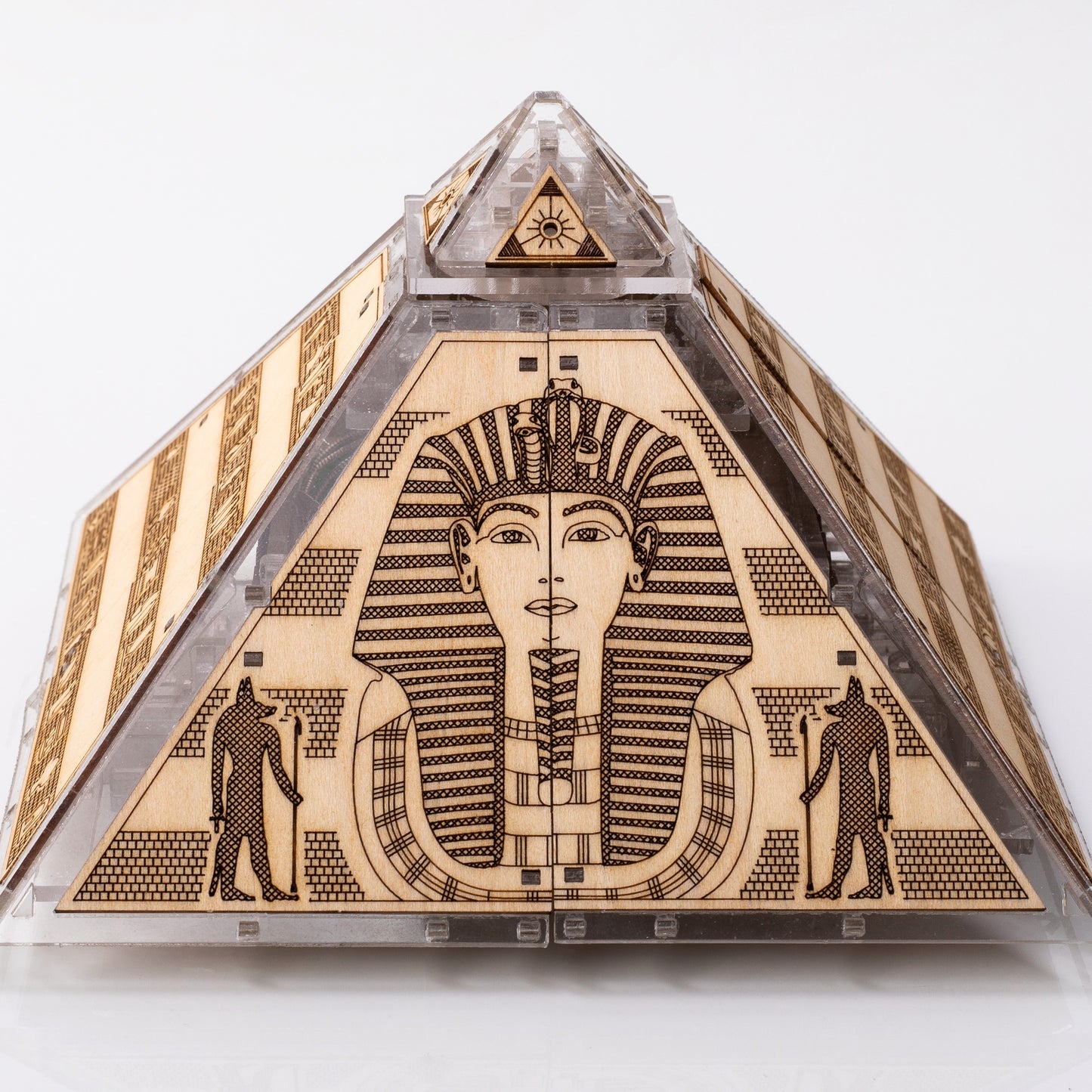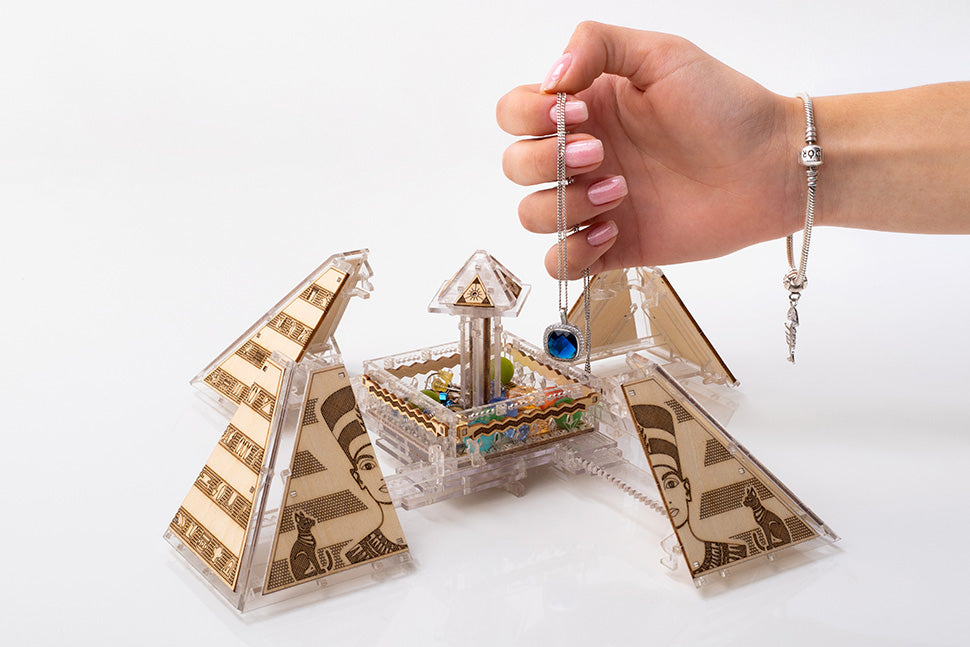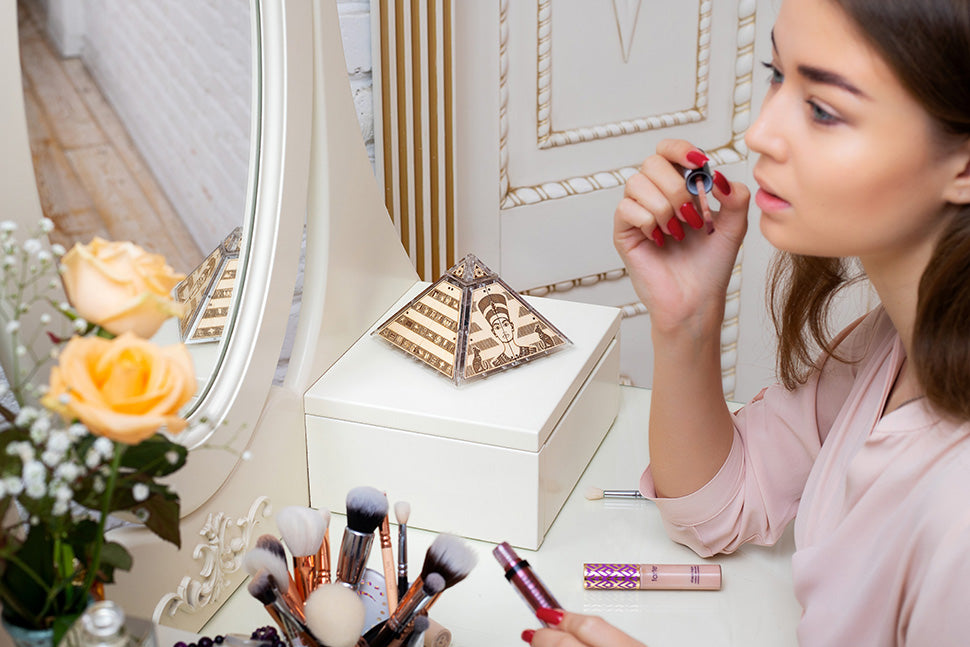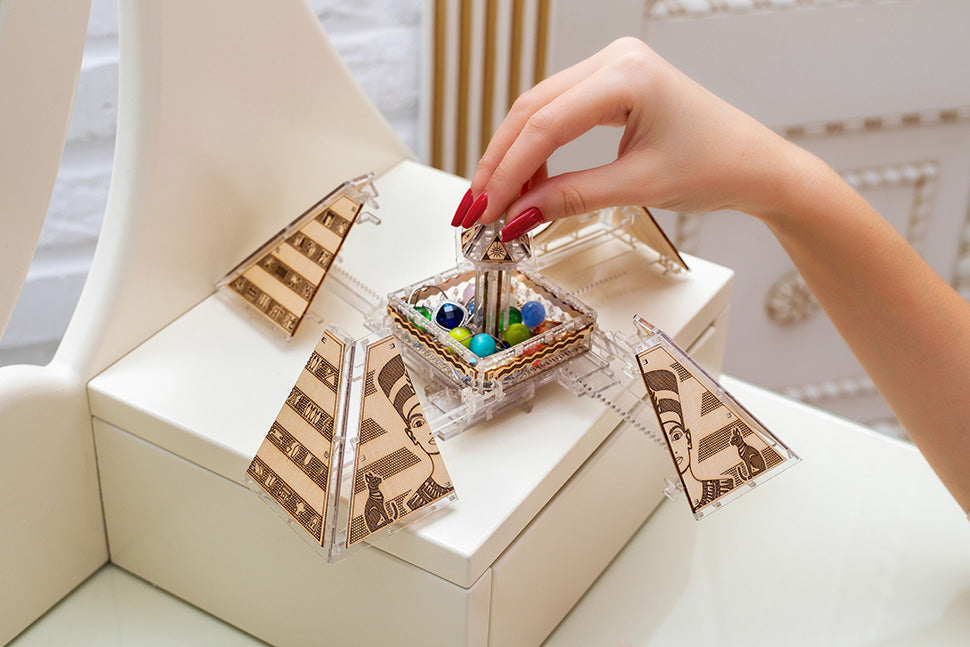 Order this wooden puzzle for yourself or as a thoughtful present for a puzzle enthusiast friend, colleague or loved one, and you can be sure to win their appreciation!
The elegant safe packaging will make sure no parts are missing! When it comes to our customer's satisfaction, there is no room for compromise. That is why we have chosen to work only with top quality materials and verified suppliers, which are guaranteed to deliver to our high expectations.
If by some reason you are not entirely pleased with your purchase, our customer care department has got you covered!

Model dimensions: 86*130*130 mm
Package dimensions: 250*140*30 mm
All Parameters
Parameters

CHARACTERISTICS
Self-assembly without glue
Number of parts: 174
Model size: 86 * 130 * 130 mm
Packing size: 250 * 140 * 30 mm
Assembled according to the instructions
Assembly time: 3 hours
Level of difficulty: medium
Age: 14+
Compartment

Plates.
Spring.
Wax.
A tool for pressing the parts out of the plates.
Tongs for very small parts.
Guidelines.